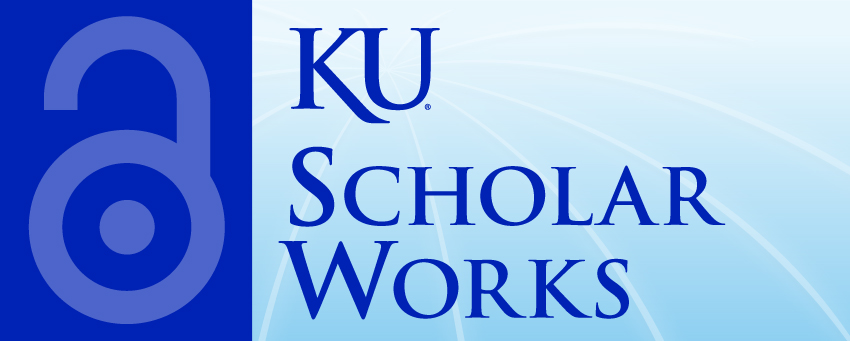 KU ScholarWorks is the digital repository of the University of Kansas. It contains scholarly work created by KU faculty, staff and students, as well as material from the University Archives. KU ScholarWorks makes important research and historical items available to a wider audience and helps assure their long-term preservation.
On February 11, 2010 the KU Faculty Senate passed a revised Open Access policy granting the University permission to deposit a copy of their scholarly work in an open access repository-- KU ScholarWorks. For more about the policy, "how to" documents, Q&A, addenda and more, please visit Open Access @ KU.
For information about submitting to KU ScholarWorks please contact Marianne Reed, mreed@ku.edu. For information about KU ScholarWorks in general, please email kuscholarworks@ku.edu.
Communities in KU ScholarWorks
Select a community to browse its collections.
Recently Added
The National Endowment for the Humanities awarded the University of Kansas Libraries a grant of $50,000 under the Sustaining Cultural Collections program to engage consultants from Image Permanence Institute (IPI), Rochester ...

(

Ubiquity Press

,

2018-04-10

)

This paper argues that the Turkic auxiliary construction –(İ)p bol–, at least in Uyghur and Uzbek, is actually a pair of auxiliaries with distinct meanings. The first auxiliary is described as expressing "full completion" ...

Drawing on concepts of Slow and Fast articulated in popular and scholarly literature, the presentation discusses Slow as an issue of workplace equity in the context of academic libraries. The event included several modes ...

(

University of Kansas

,

1933-08-31

)

The present work has largely as its object the bridging of the gap in the knowledge of the amphibians of the central plains region. For this reason, it is largely taxonomic and distributional, but, so far as possible, in ...